Drawing a Bird in Six Simple Steps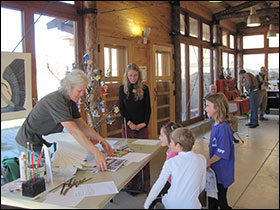 Staff member Anna Hawley looks on
as Kim sets the scene for 3 eager participants.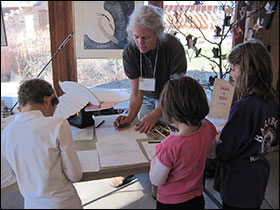 Kim shows how to draw a bird.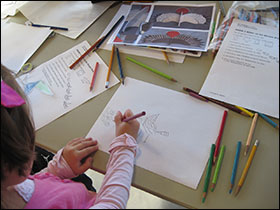 This is her first.
The second was even better!
Six Steps with a vocal extra.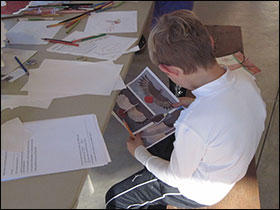 All this preparation resulted
in a great drawing.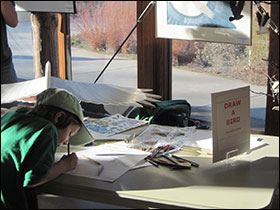 The last participant of the day,
with a lot of focus.
Thanks to Neara Russell
for the great photos!
Special Report
Leopold Art Day 2010 A Success
The event, held at The Aldo Leopold Legacy Center in Baraboo, WI, featured
a unique selection of artists with a strong connection to nature.
The artists and visitors enjoyed interacting with each other through artist-led demonstrations and projects.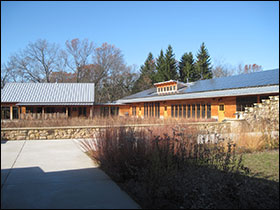 Beautiful buildings on beautiful grounds.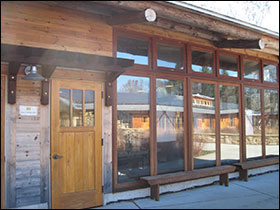 This Structure was framed with logs
from the surrounding property.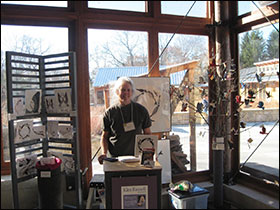 Kim prepares to start her day.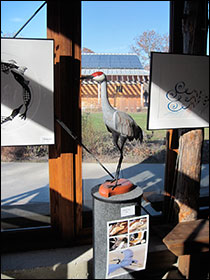 This sandhill sculpture always gets
a lot of attention.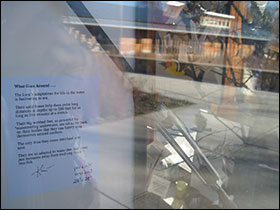 Artist's statement, art, and a building turnbuckle
as seen thru the front glass.
After a full day, a hike to the Leopold shack
was well-deserved.