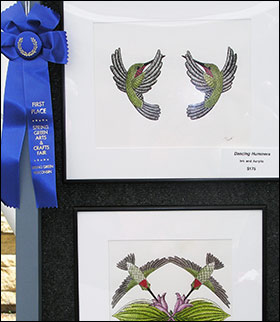 The First Place Award was given
for the body of work displayed.
Kim's sandhill stands guard over her drawings.
Special Report
Kim gets First at Spring Green
Kim was awarded First Place in Graphics
at The 42nd Spring Green Art Fair.
"I was excited to receive recognition
for my drawings. The award validates my new work and encourages me to continue in this direction.
I appreciate the hearty congratulations offered me by fellow artists, customers, and supporters."
What to buy? It's a tough decision.
Kim's booth was located in front of
F.L. Wright designed M&I Bank.
This cardinal was a popular attraction.